Repairing Cracks and Facade Renovation | RenoBuild Algarve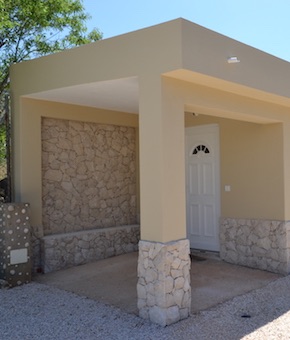 Repairing Cracks / Facade Renovation
The facade of a building is a system, comprising a range of components, in many different materials, which work together to make a building habitable. Facade coverings are the first elements of construction to suffer degradation. From the beginning these elements are subjected to adverse conditions and subsequently lose their performance. In this way, the evaluation of in-service degradation assumes a crucial role in the determination of adequate levels of performance during the life-of buildings.
CAUSES FOR FACADE DEGRADATION AND CRACKING
There are many causes which can cause a facade to degrade, notably:
The Action of Water: dampness and soluble salts;
Biological agents: algae, fungi, bacteria, various plants and small animals;
Mechanical actions: shrinkage, wind, temperature, deformation of the support and accidental actions;
Human Action: inadequate maintenance actions, vandalism and pollution.
Cracking is a pathology repeatedly identified in buildings. It has several causes and is essentially due to deformations that the different materials composing the building undergo. The following are among the most common causes: deficient connection between different materials; shrinkage and expansions; thermal and hygrometric differentials; excessive load; deformation of structural elements; foundation Settlements; concentration of tensions at single points (for example angles of windows and doors).
PROBLEMS WITH THE EXISTENCE OF CRACKS
Non-structural cracking is the most common and burdensome condition on wall plastering. The sealing ability of the coating is compromised, allowing water ingress through the cracks, which causes unsanitary conditions affecting the housing comfort, aesthetics, durability, thermal properties and durability of construction materials.
ANALYSIS, DIAGNOSE AND SOLUTIONS FOR REPAIRING CRACKS
A more detailed observation of the cracks or cracking, with the aim of characterising it (structural or non-structural origin; shape; orientation; opening; depth; extension; activity, etc.), is essential to choose from the possible repair solutions.
In many cases, the repair solution for the non-structural cracking is not achieved by applying cracks filling and painting solutions, because in most cases the cracking will reappear. In these cases it is necessary to use coatings systems that are able withstand the actions that the elements are subject to, without the occurrence of cracking.
Given the growing demands concerning the energetic performance of buildings, due to the recent legislation on the issue, one may also use thermal insulation systems when renewing facades. The application of thermal insulation to the facade of a building is the most efficient solution to refurbish it, as it is more resistant to the occurrence of cracks than other solutions are, while improving its thermal performance, capacity to resist rain water and the aesthetics. Besides, the works needed to apply it have minimum interference on the use of interior spaces.
RenoBuild has an extensive experience in the implementation of such systems (hydrorepellent and permeable to water vapour) having obtained great feedback from their clients over time.
---
Reference to RenoBuild on Website of STO Supplier in Portugal
"Renobuild – Facade Renovation, Monchique
Cleaning, Renovation and Waterproofing of Facades
Our Renobuild customer's project in Monchique focused on facade renovation wherefore the first step was cleaning those same facades. For the façade restoration, we made a barrier reinforced with cement-free reinforcing and levelling material "Sto RFP" and glass fibre mesh. This mortar has a high mechanic resistance and flexibility and its application gives the facade high resistance to cracking. "Stolit K" was used as finish, waterproofing that area and keeping its high breathability index."
"STO was the first building products manufacturer to design and produce external wall insulation systems. Still regarded as the industry benchmark over 50 years later, StoTherm Classic has undergone five decades of development and refinement to meet the demands of modern construction and the need to reduce energy consumption around the globe."
"StoTherm Classic: An external wall insulation system with EPS board and entirely cement-free components, providing market-leading impact resistance of 60 joules, up to 10 times greater than a similar cementitious system. StoTherm Classic was introduced in 1963, and has been tried and tested in every climate around the world for proven insulation performance.
StoTherm Mineral: A highly durable external wall insulation with mineral fibre boards, providing unrivalled fire protection and high thermal performance. A range of reinforcing meshes provide improved impact resistance.
StoTherm Vario: A high performance, cost-effective EPS insulation system with a mineralic reinforcing coat, designed to meet stringent fire safety requirements. StoTherm Vario provides excellent thermal insulation and can be finished in the complete range of Sto render finishes and architectural elements."
Repairing Cracks and Facade Renovation | RenoBuild Algarve
Algarve: Portimão • Lagos • Lagoa • Carvoeiro • Aljezur • Sagres • Monchique • Silves • Albufeira